EMILIA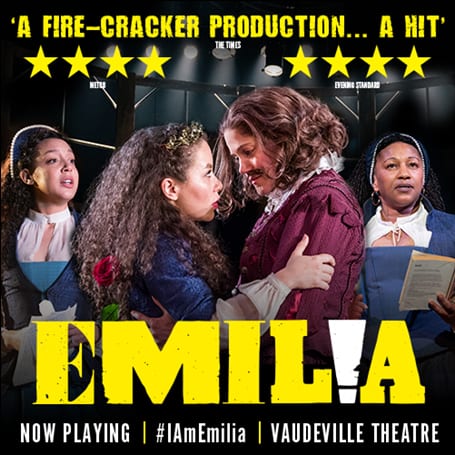 "A GLORIOUS BLAZE OF PASSION AND FURY… RICHLY FUNNY" (The Times).
1609. I AM EMILIA.
WRITER. WIFE. LOVER. MOTHER. MUSE.
400 years ago Emilia Bassano wanted her voice to be heard. It wasn't. Could she have been the "Dark Lady" of Shakespeare's sonnets? What of her own poems? Why was her story erased from history?
Emilia and her sisters reach out to us across the centuries with passion, fury, laughter and song. Listen to them. Let them inspire and unite us.
Celebrate women's voices through the story of this trailblazing, forgotten woman.
Stand up and be counted.
2019. WE ARE EMILIA.
Shakespeare's Globe's "EXTRAORDINARILY ROUSING NEW PLAY" (The Independent) which met with "WHOOPS, CHEERS, BELLY LAUGHS, A STANDING OVATION" (Time Out), now explodes at the Vaudeville theatre. An all-female cast playing both hers and hims rouses "AUDIENCES INTO A PITCH OF FERVOUR"(The Guardian) in a "MAGNIFICENT PRODUCTION" (The Stage) filled with "WIT, FIERCE INTELLIGENCE AND HEADY INTENSITY" (The Times).
Booking Until
Saturday 1 June 2019
Tickets From
12,000 tickets at £25 or less
NO BOOKING FEE
Show Times
Monday – Saturday, 7.30pm
Wednesday & Saturday, 2.30pm
Running Time
Approx 2hrs 30mins
Theatre
Vaudeville Theatre
Age recommendation
11+
'A fire-cracker production... a hit'
The Times
'Heartfelt and crowd pleasing'
Evening Standard
'Told with verve and energy... a stirring show'
Metro
'Morgan Lloyd Malcolm's play roars into the West End'
The Stage
'It rouses the audience right to their feet'
Time Out
'Highly entertaining' 'very funny'
Daily Telegraph
'A fantastic mix of laughter and fury – just one of the best things I have seen in years'
Sandi Totsvig
'It's brilliant, it's joyous, it's beautiful, it's Blackadder funny'
Caitlin Moran
'A knockout show, so funny and incredibly moving'
Mark Rylance
'It's Saturday Night Live meets William Shakespeare'
Fiona Shaw
Creatives
Morgan Lloyd Malcolm
Writer
Joanna Scotcher
Set & Costume Designer
Anna Morrissey
Choreography and Movement Direction
Zoe Spurr
Lighting Designer
Emma Laxton
Sound Designer
Yshani Perinpanayagam
Musical Director
The Times Article March 2019
Emilia at the Vaudeville Theatre, London preview
A play inspired by a feminist Tudor poet is coming to the West End. Jonathan Bate separates the facts from the fiction
Jonathan Bate
March 2 2019
The Times
Who was Emilia Bassano? Was she really the Dark Lady of Shakespeare's sonnets? The playwright Morgan Lloyd Malcolm tells us in the preface to her new play, Emilia, that "it isn't an accurate representation of Renaissance England, it isn't a historical representation. It is a memory, a dream, a feeling of her."
That's as it should be for a piece of theatre that uses the past to speak to the present. However, before seeing the Globe production at the Vaudeville Theatre in London, many audience members will want to know how much of it is true and how much is fantasy or speculation.
Baptised Aemilia, she was born in Bishopsgate in 1569, the daughter of an English woman and a Venetian musician called Baptiste Bassano, who held an appointment at the royal court, where Queen Elizabeth demanded a constant diet of musical entertainment.
Baptiste died when Emilia was seven, at which point she had the good fortune to be taken into the household of Susan Bertie, the Countess of Kent, where she received a formidable education in the classics of the kind that was usually available only to boys. She would always be grateful for this, calling the countess "the noble guide" of her youth, and throughout her life she was drawn to all-female communities of learning……. READ MORE HERE
PERFORMANCES
Friday 8 March 2019  – Saturday 1 June 2019
Monday – Saturday, 7.30pm
Wednesday & Saturday, 2.30pm
Running time: Approx 2hrs 30mins
Age recommendation: 11+
ACCESS PERFORMANCES
CAPTIONED PERFORMANCES OF EMILIA
Saturday 27 April, 2.30pm
Monday 29 April, 7.30pm
To book email: access@nimaxtheatres.com
Or call our Access Line: 0330 333 4815
For more information visit our Accessibility Page
TICKETS
12,000 tickets at £25 or less! NO BOOKING FEE
Save £5 off all prices up to 20 March
All tickets include a £1.50 Theatre Restoration Levy
RUSH TICKETS
Download the TodayTix app for access to exclusive £20 Rush tickets

GROUPS
8+ GROUP RATE
£32.50 for Stalls and Dress Circle seats
£25 for Grand Circle seats
10+ EDUCATION RATE
Stalls and Dress Circle seats – £19.50 plus each 11th ticket free.
Grand Circle seats – £15 plus each 11th ticket free.
Valid Monday to Thursday
For teachers bringing school groups we can provide two resource packs, one for PHSE and one for Drama/Theatre Studies, with suggestions for a variety of activities, keyed in to appropriate assessment objectives.
To book a group, call us on +44 (0)330 333 4817 or email groups@nimaxtheatres.com
Why not make your group visit even more special with our optional extras? Please ask for details.
VISITING THE VENUE
The Vaudeville Theatre is located on Strand, near to Covent Garden and Charing Cross in London's West End. Below you can find information on how to get to the theatre and a map showing the location of the venue.
If you're driving into the West End to see a show, take advantage of Q-Park's Theatreland Parking Scheme. Save 50% off parking with Q-Park (after 12pm and for up to 4 hours). To qualify, simply present your Q-Park car park ticket for validation at our box office and the car park machine will automatically charge you half price. For details of locations and prices please visit Q-Park's website.
Address
Vaudeville Theatre, 404 Strand, London, WC2R 0NH.
10am – 8pm, Monday – Saturday.
Parking
NCP at Upper St Martins Lane Masterpark at Trafalgar Square
Public Transportation
Charing Cross (Northern, Bakerloo lines) Embankment (District, Circle lines)
Bus Routes
1, 4 , 6, 9, 11, 13 , 15, 68, 76, 171, 176, 188