Titania McGrath: Mxnifesto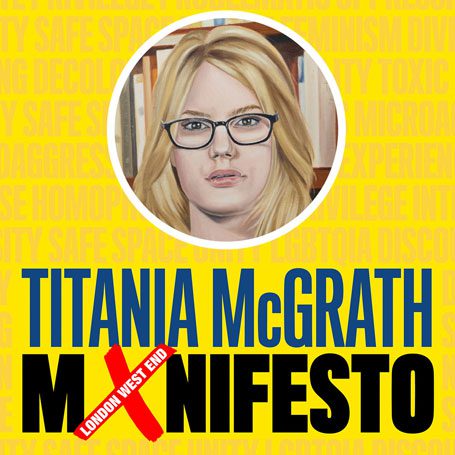 Performed at the duchess Theatre between 01 Nov, 2021 and 01 Nov, 2021
Who Is She?
Titania McGrath is a radical inter–sectionalist poet committed to feminism, social justice and armed peaceful protest about everything. 
"If you don't want to be censored, don't say the wrong things. It really is that simple." Titania McGrath
The Duchess Theatre operates strictly under the government COVID-19 guidelines with robust mitigation methods. For further information check our COVID-19 secure information page. If you or anyone in your party experience symptoms of COVID-19 or are required to self-isolate we have a 100% exchange guarantee up to 24 hours before your performance. Please contact boxoffice@nimaxtheatres.com and they will assist.
'Beautiful classic satire'
Ricky Gervais 
'Just as Bridget Jones was the embodiment of the anxiety-ridden Nineties feminist, a creation whose diary entries encapsulated all our hopes, fears and failures, so Titania McGrath is her millennial successor, a girl every bit as lost and confused, every bit as accurately observed — and equally, catastrophically, hilarious.'
Daily Mail
'A delight. Doyle's creation turns her blind, contradictory, righteous rage to every subject you could imagine.'
Evening Standard
'The latest genius twist in Britain's long tradition of satirical spoof' 
Daily Express
'Outrageous and hilarious. As a millennial icon on the forefront of online activism, Titania is uniquely placed to explain to you why you are wrong'
Irish Independent
'Hilarious…perfectly captures the joyless tone of the woke Stasi'
The Times
'The funniest, best-crafted satire against the stifling conformity and censorship of illiberal liberals that I've ever seen'
Entertainment Focus
'Titania's satire is brilliant because it straddles the line between believability and absurdity'
The Post Millennial