HORRIBLE HISTORIES – BARMY BRITAIN – PART FOUR!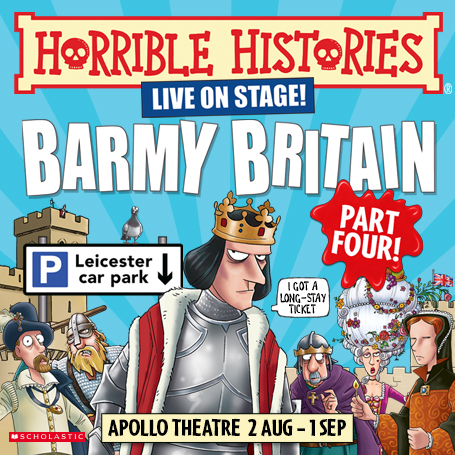 We all want to meet people from history. The trouble is everyone is dead!
So it's time to prepare yourselves for Horrible Histories live on stage with a brand new show featuring all new scenes in Barmy Britain – Part Four!
Be reduced to rubble by the ruthless Romans! Would you be shaken or stirred by Richard the Third? Will Queen Elizabeth I endure her terrible teeth? Would you be hanged by King James I for being a witch? Mount a mutiny against King Henry VIII! See Mary Tudor knock the spots off Mary Queen of Scots! Peep into the world of Samuel Pepys and help Georgian detectives find the headless man! Take a trip into the night with the night soil men and discover how to survive the first ever train ride! 
After six sensational years in the West End, Barmy Britain is back with a brand new world premiere!
Booking Until
Saturday 1 September, 2018
Tickets From
£17
Prices include booking fees of up to £2.50, applicable to online & telephone bookings
Show Times
See schedule below
Running Time
70mins no interval
Theatre
Apollo Theatre
Age recommendation
5-105!
Horrible Histories brings the bloody story of Britain throbbingly alive in this hilarious show from the excellent Birmingham Stage Company. Bloody, marvellous stuff!
The Daily Express
Is this any way for children to learn about history? Too right it is! If lessons were always like this, kids would be queuing up at the school gates every morning.
The Times
This funnily uproarious, occasionally flatulent, actually quite feminist and surprisingly informative romp through the madder, badder moments of British history is perfect!
The Sunday Times
Barmy Britain is a brilliantly fun piece of educational theatre that taught this history graduate a few new things and kept my son enthralled. History teachers of Great Britain, it's time to up your game.
The Daily Telegraph
As gleefully vulgar as a Roman poo stick! It's perfectly horrid and my daughter loved it!
The Daily Mail
Anarchic, cheeky, illuminating fun - a little fact-packed gem. The actors are a hoot, funny and sharp, delivering the one-liners with excellent timing. Here's a show that has brains (with the winning mix of fart-jokes) aplenty.
Time Out
Foster and Fitzjohn should be in every school history class across the land. Or, given how little most of us know about history, maybe that should be every living room.
The Scotsman
The Horrible Histories stage shows have become a bit of a British institution. It's not hard to spot why. Think Fry and Laurie, mixed with Little Britain and a dash of Monty Python. It's sparky, cheeky and covered in poo!
The Guardian
A breathlessly orchestrated hour of 'edutainment' packaged as madcap tomfoolery and rumbustious songs, not least for parents who will probably wish learning could have been this much fun for them.
Metro
CAST
Other Cast To Be Confirmed
Creative
Neal Foster
Author & Director
Jacqueline Trousdale
Set/Costume Design
Jason Taylor
Lighting Design
TICKETS
Tickets from £17
All tickets include a 50p Theatre Restoration Levy
Prices include booking fees of up to £1.50, applicable to online & telephone bookings
GROUP RATES
Groups 10+
Best available Band A/B seats reduced to £17.50
Valid on all performances

To book a group, call us on +44 (0)330 333 4817 or email groups@nimaxtheatres.com
Why not make your group visit even more special with our optional extras? Please ask for details.
PERFORMANCES
Thursday 2 August 2018 – Saturday 1 September
Running time: 70mins no interval
Age recommendation: 5-105!
Thursday 2 August, 2pm & 4pm
Friday 3 August, 2pm & 4pm
Saturday 4 August, 11am
Monday 6 August, 2pm
Tuesday 7 August, 2pm
Wednesday 8 August, 11am
Thursday 9 August, 2pm & 4pm
Friday 10 August, 2pm & 4pm
Saturday 11 August, 11am
Monday 13 August, 2pm
Tuesday 14 August, 2pm
Wednesday 15 August, 11am
Thursday 16 August, 2pm & 4pm
Friday 17 August, 2pm & 4pm
Saturday 18 August, 11am
Monday 20 August, 2pm
Tuesday 21 August, 2pm
Wednesday 22 August, 11am
Thursday 23 August, 2pm & 4pm
Friday 24 August, 2pm & 4pm
Saturday 25 August, 11am
Monday 27 August, 2pm
Tuesday 28 August, 2pm
Wednesday 29 August, 11am
Thursday 30 August, 2pm & 4pm
Friday 31 August, 2pm & 4pm
Saturday 1 September, 11am
VISITING THE VENUE
The Apollo Theatre is located on Shaftesbury Avenue, near to Piccadilly Circus in London's West End. Below you can find information on how to get to the theatre and a map showing the location of the venue.
If you're driving into the West End to see a show, take advantage of Q-Park's Theatreland Parking Scheme saving 50% off off-street car parking charges for up to 24 hours. To qualify, simply present your Q-Park car park ticket for validation at our box office and the car park machine will automatically charge you half price. For details of locations and prices please visit Q-Park's website.
Address
Apollo Theatre, Shaftesbury Avenue, London, W1D 7ES.
10am – 8pm, Monday – Saturday.
Parking
Q-Park – Chinatown, Newport Place
Tube
Piccadilly Circus (Bakerloo line, Piccadilly line)
Bus Routes
1, 14, 19, 22, 24, 29, 38, 55, 176